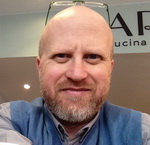 Zur Shalev completed his studies at Princeton University (history, 2004). After a post-doctoral stay at Oxford he joined the University of Haifa, where he teaches early modern European history. He specialize in cultural and intellectual history, with particular interest in geographical and religious thought and in Oriental scholarship. Currently he works on geographical Hebraism: an attempt to understand the reception of medieval geographical Hebrew texts in early modern Christian Europe. Another project is focused on the tradition of learned travel to the Levant in the 17th and 18th centuries. At the University of Haifa he convened the Medieval-Renaissance seminar and founded the innovative teaching program Nofei Yeda (Landscapes of Knowledge). Since 2016 he co-edits Mediterranean Historical Review (Routledge). He is co-founder and co-director of the Haifa Center for Mediterranean History.
Contact
email: zshalev@univ.haifa.ac.il
Office: Eshkol bldg., floor 13, room 1302a
Office phone:04-8240919

Personal website
https://haifa.academia.edu/ZurShalev
Teaching in 2020-21
Book history, between Gutenberg and the Internet
The Reformation and the modern world
Past teaching topics
Early modern Europe
The early modern Mediterranean
The geographical revolution
Religious journeys between center and periphery
Select Publications
| | |
| --- | --- |
| | Shalev, Zur, Sacred Words and Worlds: Geography, Religion, and Scholarship, 1550-1700 (Leiden: Brill, 2012). |
| | Shalev, Zur and Charles Burnett, eds., Ptolemy's Geography in the Renaissance, co-edited with (London: Warburg Institute, 2011). |
Shalev, Zur, "Religion and Cartography," in Cartography in the European Enlightenment, edited by Matthew H. Edney and Mary Sponberg Pedley. The History of Cartography ; V. 4, 1227-36. Chicago: University of Chicago Press, 2019.
תמר הרציג וצור שלו, "'הקולות של הנשים עצמן חסרו לי': שיחה עם לינדל רופר," זמנים: רבעון היסטורי 140 (2019), עמ' 102 -115.
Shalev, Zur, "Apocalyptic Travelers: The Seventeenth-Century Search for the Seven Churches of Asia," in Scriptures, Sacred Traditions, and Strategies of Religious Subversion: Studies in Discourse with the Work of Guy G. Stroumsa, edited by Moshe Blidstein, Serge Ruzer and Daniel Stökl Ben Ezra, 251-63. Tübingen: Mohr Siebeck, 2018.
Shalev, Zur, "Islam, Eastern Christianity, and Superstition According to Some Early Modern English Observers," in Knowledge and Religion in Early Modern Europe: Studies in Honor of Michael Heyd, edited by Tamar Herzig, Yaacov Deutsch and Asaph Ben-Tov (Leiden: Brill, 2013), pp. 135-52.
Shalev, Zur, "Harmony and Reason of State: Intersections of Cosmography and Political Theory in the Early Modern Period," Archives internationales d'histoire des sciences 59, no. 163 (2009): 591-603.
Shalev, Zur,"The Travel Notebooks of John Greaves," in The Republic of Letters and the Levant, edited by A. Hamilton, M.van den Boogert and B. Westerweel. Intersections 5-2005, 77-102 (Leiden: Brill, 2005).
Shalev, Zur, "Sacred Geography, Antiquarianism and Visual Erudition: Benito Arias Montano and the Maps in the Antwerp Polyglot Bible," Imago Mundi: The International Journal for the History of Cartography 55, no. 1 (2003): 56-80.